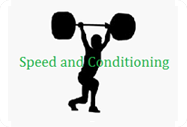 - Medicine Balls
- Speed Chutes
- Resistance Harness
- Overspeed trainer
- Cones
- Agility ladder and mazes
- Mini training hurdles
- Plyometric boxes

---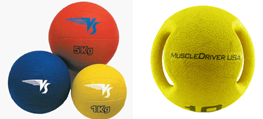 MEDICINE BALLS
We have access to a full line of medicine balls of all weights and styles. Styles include 1- and 2-handle or balls on a rope from MuscleDriver and VS Athletics (among others).
---

SPEED CHUTES
A variety of different sizes will provide the resistance that will help your athletes develop the power they need to get out of the blocks and down the track in personal best times.
---

RESISTANCE HARNESS
Resistance harnesses give your athletes another option to developing power by adding resistance. Can be attached to a pole using elastics, or held by a coach.
---

OVERSPEED TRAINER
A great tool for speedwork, the latex elastic attaching the 2 athletes stretches and allows the following athletes travel at speeds 20% faster then normal. This helps develop leg turnover.
---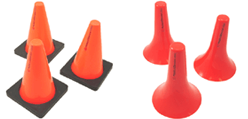 CONES
Ideal for marking courses for races, obstacle courses and marks for jumps. Also useful for making interval finishes visible from across the track.
---

AGILITY LADDER AND MAZES
These help your athletes with footwork and agility, allowing them to react better and change directions quicker. Available as ladders or mazes as in pictures below.
---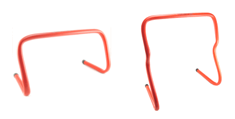 MINI TRAINING HURDLES
Another tool for agility, these help your athletes develop quick feet and knee drive. Can be used for a variety of sports and come in heights of 9", 12" and 18", as well as adjustable heights (6"-12").
---

PLYOMETRIC BOXES
Another tool to help develop leg power, boxes are available in a variety of heights for jumping up onto or driving off of.