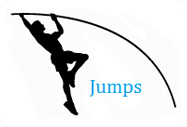 - High Jump
- Pole Vault
- Long and Triple Jump
- Wind Gauges and Performance Indicators
- Accessories
---

HIGH JUMP
Many styles of high jump standards, mats and pads are available for order!!
---

POLE VAULT
All the accessories to meet your pole vault needs! Poles, tips, measuring sticks, bags, box inserts, standards and landing systems.
---

LONG AND TRIPLE JUMP
We can meet all your ordering needs for rakes, takeoff boards, measuring tapes, runway markers and more.
---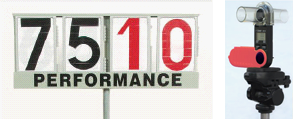 WIND GAUGES AND PERFORMANCE INDICATORS
Those necessary accessories for ensuring performances are accurate and known to all spectators. Many choices to suit your needs.
---

ACCESSORIES
Including pole vault/high jump crossbars, bungee crossbars, speed bumps, sliding vault boxes and more.